Finally, I have ventured again into what could be described at least as a somewhat active life.

Saturday I went out to lunch with my parents. It was my mother's birthday, so I made the effort to actually get dressed and leave the house. The main meal was pleasant enough, and I had a nice time, but unfortunately the restaurant we chose (in a town about 20 minutes drive away) had been taken over since I was last there, by the same group of restaurants/hotels which runs a hotel near me, where I often eat/have coffee with my friends. The menu was exactly the same, and it's a pretty limiting menu. Mostly everything has red meat or fish in it, neither of which I eat, and I wasn't in the mood for chicken (least of all a chicken pie) so I opted for a dolcelatte and pear lattice tart. Half of our (shared) starter of Mediterranean flatbread was missing the peppers and goats cheese which the other half had, so we had to return that, and our coffee after the meal was cold. Plus, the service was shite. I don't think I'll be going back. It's got the same ridiculous system as aforementioned local hotel -- customers have to place their order at a 'food bar'; the waiting staff only have to bring the food/drinks to the table. I don't understand it. It annoys me. Must be a piss easy job, though.

Saturday night, Laura came with my parents and me to the IMAX theatre in the city, to see the Stones Wembley Arena concert on 'a screen bigger than a five-a-side football pitch'. It was fucking fantastic. I wish I had been there, live. They're such an unbelievable band. And Mick Jagger's extensive collection of horrendously shite but fabulous coats is incredible.

Sunday, I met Natz for lunch in the west end, we went for a walk through Kelvingrove Park and had coffee at Offshore, a very trendy coffee house, where it would appear they only hire OTT-gorgeous baristas. The guy looked like Billy from Six Feet Under (unshaven; more than stubble but less than horrible fluffy crap) and hot as fuck, and the girl was just completely stunning -- olive-skinned, maybe-Italian-or-similar: really beautiful, in the most pure and original sense of the word. You don't see much genuine beauty anymore; not in a society where Jordan-esque women are considered beautiful. Ick. The first latte we had wasn't as hot as it should've been (why can nowhere seem to make coffees properly anymore?) but I was so intrigued by the trendy clientele and hot staff that I didn't even bother to complain. Our second was perfect, though, and Natalie is sure that the beautiful girl incorporated this incredible 'heart'-shaped swirl into her froth as a sign that she was available and willing.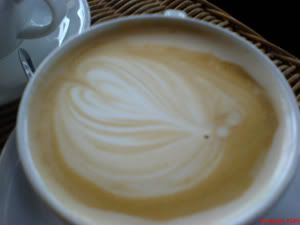 Since the weather on Monday was so disguting, I elected not to leave the house all day and had told my friends that I wouldn't be meeting them for a drink later, but come 6pm I was so bored out of my mind that I decided I'd go for a couple of hours ... and of course I was there for four hours, until the pub closed. It was a good laugh, as always, however. I videoed Shiv dancing and pouting, and then pasted M People's Open Your Heart over the original sound. The likeness to Heather Small is uncanny. (NB: M People are playing the Glasgow SECC next month and I have successfully managed to go from almost having to book a ticket for myself to go alone, to talking SIX other people into it. Yay!) I only had four Bacardis in an attempt to take it easy. It worked, but I was still shattered this morning. Still not completely back to normal, then.

Today, I went into the city to talk to my adviser of studies at Uni, but it was a total waste of time because she was out to lunch by the time I got there (left home at 11.30 this morning, and didn't get to her building until 1.15 -- I hate living so damn far away) and I didn't want to stick around until she got back and then have to wait in a horrendous queue. I guess I'll have to go back later in the week and make sure I'm the first one there. If only I didn't have to wait for a nurse to come and fix me every morning. Ran into Suzy and Anne Marie on the subway, which was great, 'cause I hadn't seen them for weeks and weeks. I hung around with them for an hour or so to catch up, then I met Emma for lunch. We were near Natzy's office, so she came along for 45 mins of her lunch break. After she went back to work, I attempted to drag Emma to Offshore to see the hot baristas but since it was four stops away on the subway (and we were already about 20 minutes' walk away from the subway) followed by a walk of roughly 25 minutes, she wasn't up for it. So we had coffee more locally and she volunteered some stories from her sex life. I had an amazing 'toffee nut latte', which I imagine must be fairly new. It was gorgeous. No hearts in the foam, though. Starbucks just doesn't cut it, eh? Before we headed home, Emma insisted on buying not one, not two, but three Jessica Simpson CDs. Just imagine going to the sales counter with these: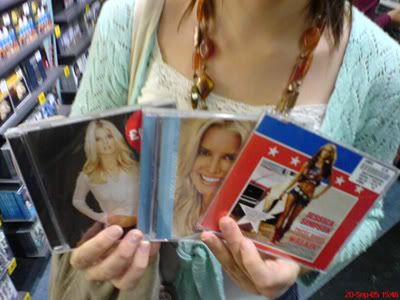 Since she doesn't like her voice or her music, this only contributes to mounting evidence that she's a bit of a muff muncher. So far, she has admitted only to being 'intrigued by the female form'. If that isn't lesbian talk, what is?

I bought the new album by Sigur Rós -- for those not in the know; an interesting Icelandic band which I heard about a few weeks ago on the truly wonderful iTunes New Music Tuesday. Their music is very relaxing and a pleasure to listen to. Sort of a mixture of ambience and mild alternative/rock. Or at least that's how I'd describe it, but who knows. It's getting more and more difficult to categorise music. There appear to be new genres being defined every five minutes. It's lovely stuff, anyway. And the packaging is soooo yummy. It's like a little book: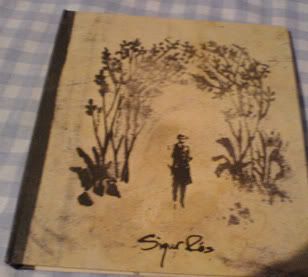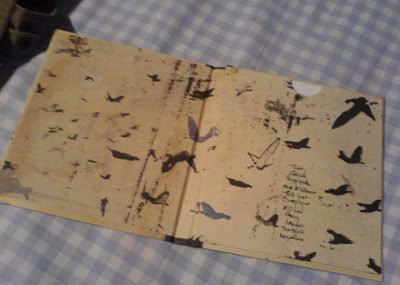 I also bought the new Franz Ferdinand single on vinyl, although it makes no sense because I want to put it on my computer and iPod, and obviously can't, but I'll be buying the new album anyway, plus it was £1.99 and cool as fuck, so I just bought it anyway.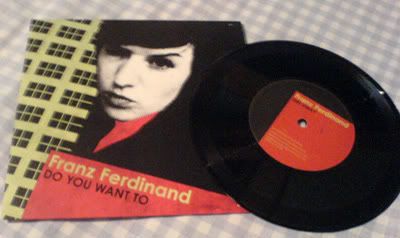 Then I met Laura for coffee (I'm going to turn into a coffee bean one of these days) and a catch-up, and I didn't get home until almost 9pm, leaving me extremely tired.

And now ... (People fucking hate me now that I have this phone-cum-digital camera, but I fucking love it; what can I say?)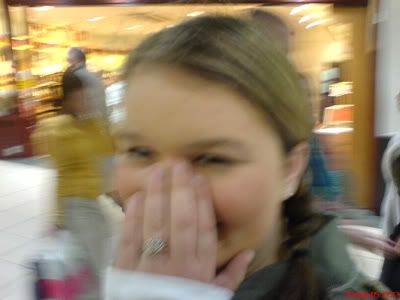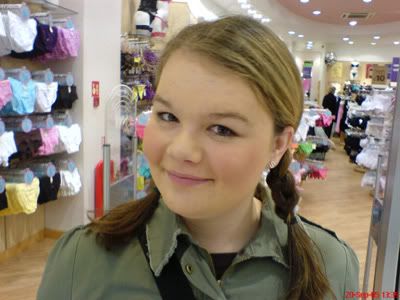 Suzy waiting patiently for Anne Marie outside La Senza, because she's too embarrassed to go into lingerie stores. Prude.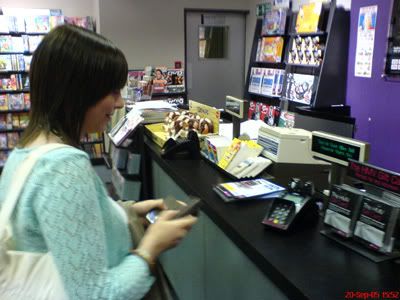 A slightly mortified Emma purchasing her Jessica Simpson CDs. (If it were me, I'd at least have thrown in another, more acceptable record, rather than buying THREE Jessica Simpson CDs.)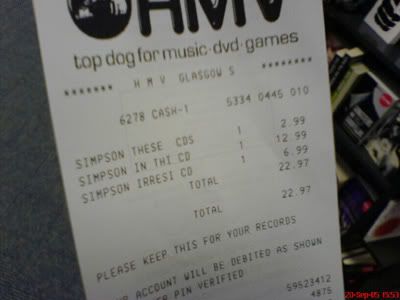 The proof of purchase, which had to be sent to a mutual friend as the evidence that she actually bought them and didn't just pose for a photo with them in HMV.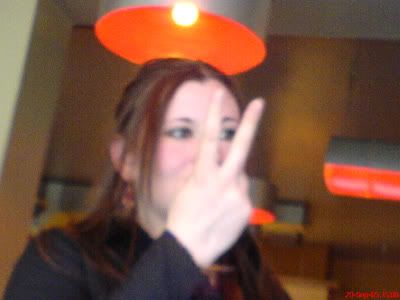 The ever-ladylike Natzybawz gives her best 'OK!' magazine flick off. Charming.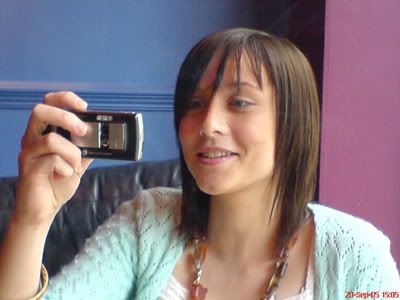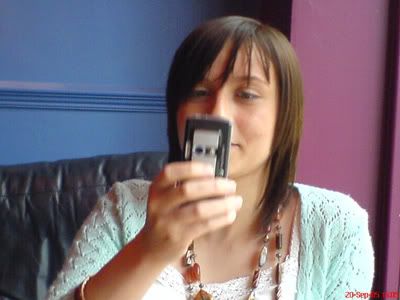 Emma and I took photos of each other taking photos of each other. Like, how cool! And geeky. And way overdone. Oh well.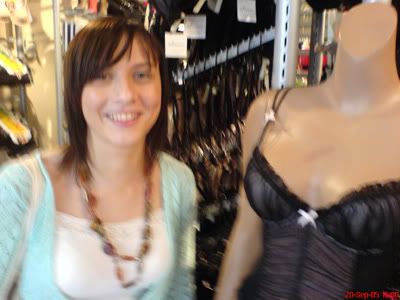 Emma posing with a gorgeous model in Ann Summers.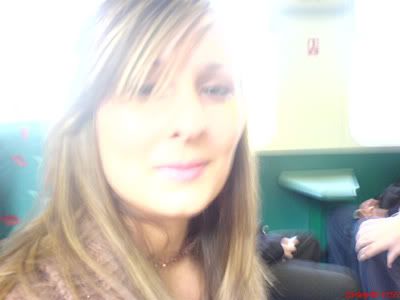 Meeting (and scaring) Debs on the train home. Awww. I hadn't seen her in weeks, either.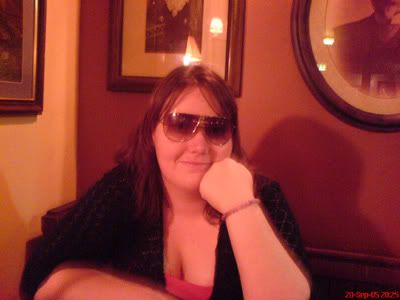 Laura loves to try on my sunglasses.